Cylinder & Thermal Store
Cylinders & Thermal Stores
High Quality British Made Cylinders
Low Cost with Free Delivery to Mainland UK
Copper Vented Cylinders and Thermal Stores
Stainless Steel Pressurised Cylinders
Eco Airpump are distributors for Gledhill cylinders and thermal stores. As you would expect we deal mostly with twin coil cylinders to complement the solar equipment that we supply, but should you require a standard or customised cylinder we can usually help.
Is the correct Cylinder or Thermal Store important?
Any Air Source Heat Pump or Solar Thermal installation is dependent on achieving maximum efficiency in heat transfer and heat storage through selecting a quality cylinder. Eco Airpump are distributors for Gledhill cylinders and thermal stores. Gledhill are specialists in the manufacture of Heat pump and Solar Thermal specific cylinders. However should any non standard cylinders or thermal stores be required, then Eco Airpumps has trading partners who can offer almost any bespoke cylinders of ranging sizes or applications.
Domestic Thermal Stores, Hot water and buffer cylinders
To select the correct cylinder has many benefits to installers and can massively impove the performance and extend the life of air source heat pump, also help decrease running cost of heat pump. Our cylinder manufacturer have led the way in developing the concept of cylinder and thermal stores since 1980. The latest version has been designed to get the best possible performance from a heat pump in a unit capable of being linked to other alternative energy sources such as wood burning stoves or solar thermal panels. There are numerous other possible installation options (e.g. heating taken directly from the heat pump. These are shown in detail in the installation manual).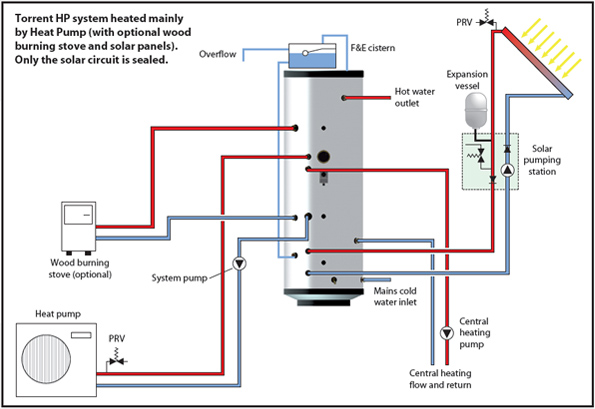 The true significance of a thermal store in these circumstances should not be underestimated.
The store is safe to use with a wood burning stove.
Energy put into the store from whatever source can be used for both heating and hot water.
There is no requirement for a pressure and temperature relief valve, there is therefore no need to design safe discharge facilities into the property.
A thermal store can operate with less "on-peak" top up than an unvented cylinder when heat pumps are used as the main energy input.
Buffer Cylinder / Buffer Vessel
A buffer cylinder or buffer vessel, is a basic water cylinder which is positioned between the air source heat pump and the heating system.
The Buffer cylinder provides a store of hot water which is immediately available - so space heating is quite instant – and is important to stop an air source heat pump cycling – switching on and off. When installing an Eco Airpump, the correct sizing of a buffer cylinder along with the advanced features such as weather compensation and twin speed fans, will generate optimum efficiency.
Buffer cylinders can be made to almost any sizes, and are generally available as off the shelf products from recognised manufacturers.Open vented buffer cylinder connections can be direct or indirect depending on the system.
Thermal Stores
Thermal Stores are widely used across Europe. The benefits and simplicity of using a thermal store is becoming increasingly popular in the U.K.
In simple terms a thermal store is a 'Bank' of energy in the form of hot water. The ability to 'pay in' multiple heat sources such as back boilers, solar thermal and air source heat pumps gives excellent flexibility. A Thermal Store is a large store of water which can be either pumped to the heating (like a buffer) or will produce mains pressure domestic hot water on demand from the copper hot water heat exchanger without the safety problems of an unvented cylinder.
At typical and comprehensive example of a thermal store is the Torrent HP range (other brands are available including bespoke manufacture). For full installation recommendations and schematics see the attached download.
Solar Twin Coil Cylinders
A solar twin coil cylinder is the standard hot-water-only cylinder used with solar thermal evacuated tubes or flat plate collectors. It quite simply allows the existing heating system to remain in place, taking over from the solar thermal only if there is a requirement for additional heating such as in winter or during periods of high demand.
As the existing boiler is only topping up the heat as required, a correctly sized typical solar thermal systems will provide up to 60-70% of a homes annual hot water demand.