Air to Water Air Source Heat Pump
Air to water air source heat pumps
Air Source Heat Pumps (ASHP) are becoming an increasingly popular choice for home heating in UK. They can be installed in new homes and just as easily retrofitted into renovation projects. ASHP absorb a small amount of heat from the air and use it to generate high temperatures for heating and hot water. Air source heat pumps are often a practical alternative to Ground Source heat pump as they require no digging or drilling and fewer plumbing connections are used during installation, making them cost effective to install. Any competent person can install one of our units without specialised skills of tools.
The unit of measuring the efficiency of an Air Source Heat Pump is the Coefficient of Performance. This tells you your return on one unit of energy used. A COP of 3 means that for every 1 Kw of energy you put in you get 3 Kw of energy out. The Bristish Standard for measuring COP is EN14511 which measures at an air temperature of 7°C and a target water temperature of 35°C. The main factors which effect the running of a heat pump are the outside air temperature – you get a higher COP on a hot day, and the target temperature – you get a better COP with a lower target.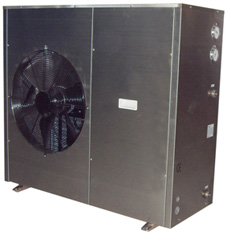 How much will you save?
According the The Energy Saving Trust the prospective financial and carbon savings from installing an air source heat pump are as follows:
| Fuel Displaced | £ Saving per year | CO2 saving per year |
| --- | --- | --- |
| Gas | £300 | 860 Kg |
| Electricity | £870 | 6 tonnes |
| Oil | £580 | 1.6 tonnes |
| Solid | £280 | 5 tonnes |
All savings are approximate and are based on an air source heat pump providing 100% of space heating in a detached property.
What options are available?
There are two types of air-source heating systems. Air-to-air systems provide warm air, which is circulated to heat the building. Air-to-water systems heat water to provide heating to a building through radiators or an underfloor system. Eco Airpump supply UK market with full range of EAP air source heat pump. All units including Eco5, Eco7, Eco9.5, Eco13 and Eco18 air source heat pump, swimming pool heat pump and loft heat pump are available.
How Does a heatpump work?
The air source heat pump is a viable heating alternative to conventional heat sources.
In essence an air source heat pump has a motor powered by electricity that delivers more energy than it consumes. For every kilowatt of energy used as electricity, around 4.2 units of heat are delivered to your heat store. The Eco Airpump works by pressurising refrigerant to create a heat output. Heat pumps use similar technology to that employed in domestic refrigerators or freezers, but in reverse. Air source heat pumps use electricity to power the compressor, which forces a refrigerant (R404a) through tiny holes to create heat. The heat is then transferred to your heating system, and it is this cycle which makes air source heat pumps so efficient.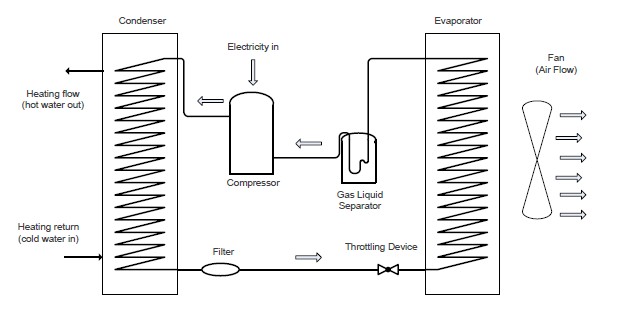 Air source heat pumps use energy freely available in the ambient air and are able to provide heating at air temperatures as low as -25°C. Eco Airpumps use the latest technological advances in both compressor design and system control and this allows the units to provide cheap heat, more efficiently than most other forms of heating.
Air source heat pump are a genuine alternative to ground source heat pumps. Air source heat pump do not require any land or ground works so are considerably more cost effective to install. Leaving the payback time low.
Eco Airpump can be integrated with your system by incorporating a Thermal Store in the installation. The air source heat pump would directly heat the thermal store or buffer tank, with the heating (radiators or under floor) and hot water being taken from that cylinder. With most air source heat pumps backup heating is often needed for air source heat pump systems to be effective because of the cooler UK climate. The Eco air pump is designed to operate at an efficient performance level in Nordic conditions.
The efficiency of air source systems is measured by a coefficient of performance (CoP). Eco Airpumps have full and detailed laboratory reports available for your inspection, which clearly shows every level of performance at every level of temperatures, both air and water as laid out by EN41511 standards. Ecoairpumps are so confident with their pumps performance we do not hide or manipulate any facts or figures
High Efficiency Air Source Heat Pump developed for UK climate
The critical factor of the Eco Airpumps Domestic air source heat pump range is the suitability for the U.K. Climate. Unfortunately our climate is not continual scorching temperatures, we have continual 5 – 10 degrees, which means that the correct components can ensure excellent all year round components. Heat pumps which rely on in line heaters and other back ups clearly are not designed for U.K. conditions.
Eco Airpumps incorporate market leading components such as Copland Scroll compressors and use testing laboratories to continually improve their performances. Different refrigerant gasses perform in different ways. The combination of Eco Airpump R404a gas with the correct compressor and components is the reason the performance makes the range market leaders in performance. The U.K. temperature range is ideally suited to Eco Airpumps and the performance levels of our air source heat pump support this.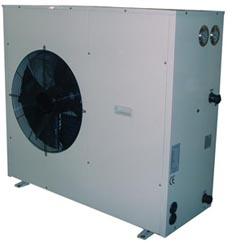 Eco Airpump Advantages:
COP 4.4 (A7/W35)
3 Year full warranty
-25°C Performance Efficiency
Powder Coating Guarantee
Stainless Steel Chassis Option
Lower capital expenditure to achieve energy savings
No ground works required
No special tools or plant required
Eco Airpump COP chart:
Efficiency:
The very best boilers on the market operate at around 97% efficiency when installed in optimum circumstances. Due to our advanced heat pump technology our air source heat pumps achieve up to 500% efficiency compare to other heat pump in the market.
With fewer moving parts to go wrong, air source heat pumps have a life expectancy of over 25 years. And with no annual service or maintenance required, ongoing costs can be reduced by as much as 75%. Eco Airpump provide full technical support for air source heat pump range including training. All air source heat pump installation manual and schematics are available to download.