Solar Thermal - Evacuated tube panel heating system
Benefit from years of Product and Installation Experience
Full advice and support provided on all our products
Fully Accredited, Fully Tested, Fully Guaranteed Single Components to Full Kits.
Rapid Nationwide Delivery
Solar Thermal Trade Prices:
Single Panels, Part Kits, Full Kits, Work Stations, Cylinders, Full Components list.
Solar water heaters can be a valuable addition to any property that requires a hot water supply. The main advantage is the significant reduction to future energy bills. Solar water heating can provide you with about half of your hot water needs. Eco Airpump (Solar tube company) provide full solar thermal heating system solution including solar evacuated panel, solar collector/module and complete solar heating system kits.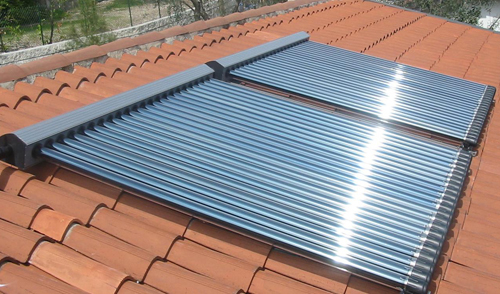 Simple to install and proven to be a highly efficient method of collecting Free Energy. The Evacuated Tube System is now a globally mature method of generating high levels of energy in the form of hot water.
Installations in the U.K. are most frequently done in conjunction with an existing heating system, so that during periods of particularly high demand, or low light due to bad weather, the existing system will provide the additional energy required.
In order to benefit from Grants and New Tariffs, any Solar Thermal Collector must either be on the MCS approved product list, or carry the Solar Keymark. In particular the Solar Keymark is a sign of independent testing, audit and inspection of both product performance and manufacturing processes, and provide both installer and customer with assurance on quality and performance.
Solar Tube Company can supply entire kits of both flat panel and evacuated tube system. All products come with manufacturer warranty, testing report and recognised certificates.
Competitive pricing and volume discount
Prices of all renewable products are falling as global demand grows and governments continue to provide incentives to support green energies.
Our ability to offer exceptional prices comes from our ability to deal directly with significant manufacturers and global distributors. However we are committed to representing quality products which are tested and carry comprehensive warrantys.
Our aim is to continue to distribute based on best prices and exceptional quality.