Eco Airpump Swimming Pool air source heat pump
Eco airpump heat Pump technology uses solar energy. Unlike conventional electric or fossil fuel fired water heaters, heat pumps take heat from the surrounding air and transfer it to the water. They require a small portion of electrical energy to achieve a high rating of heat energy. The easy-to-use contoller allows you to control the circulation water pump timing, the water temperature, and other system diagnostics and configurations.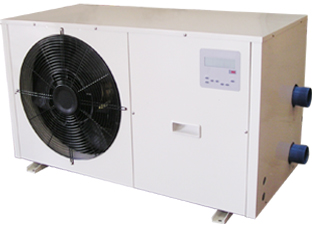 The benefits of using an Eco Airpump pool heater:

It is an efficient and responsible way of water heating. You can enjoy all year pool usage
You have protection against energy cost rises and reduce your Greenhouse gas emissions.
Eco air pump swimming pool heaters use a very large Titanium condenser. Titanium is virtually impervious to chlorine, bromine, hydrochloric acid, salt and other chemicals commonly found in a pool or spa - making it the ideal material to give you years of trouble-free use. We are so confident in the heat exchangers we will offer a 5 year warranty on the titanium coils.
Main features of Eco Airpump Swimming Pool heat pump uint:
Data rated in ambient air of 27℃ and entering water of 27℃.
Corrosion resistant Titanium heat exchanger.
Stainless Steel Cabinet optional.
LCD display controller.
Automatic unit on/off timer clock.
Insufficient water flow protection.
High/Low pressure protection.
Automatic reversing defrosting function enables units to work reliably in chilling climates.
Cool water function optional.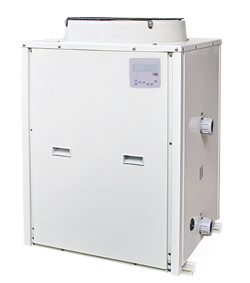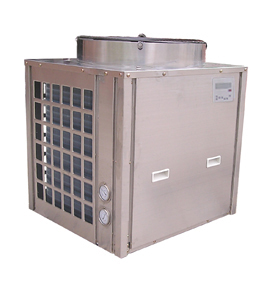 Installing an Eco Airpump swimming pool air source heat pump
Eco Airpump swimming pool heat Pumps can be quickly and easily installed
The Heat Pump should be mounted on purpose made bracket or flat level surface. It is favourable if the unit is positioned outside close to your pools filtration system. Your eco airpump installer will give you the best advice with unit placement.
Each Heat Pump is specifically selected for each swimming pool. Your installer will need to know the precise dimensions of your pool in order size the unit correctly.
Copyright © Gigabiz Ltd 2010
Gigabiz Ltd Registered in England and Wales
Company registration numberNo. 5395380 VAT No. GB918479383